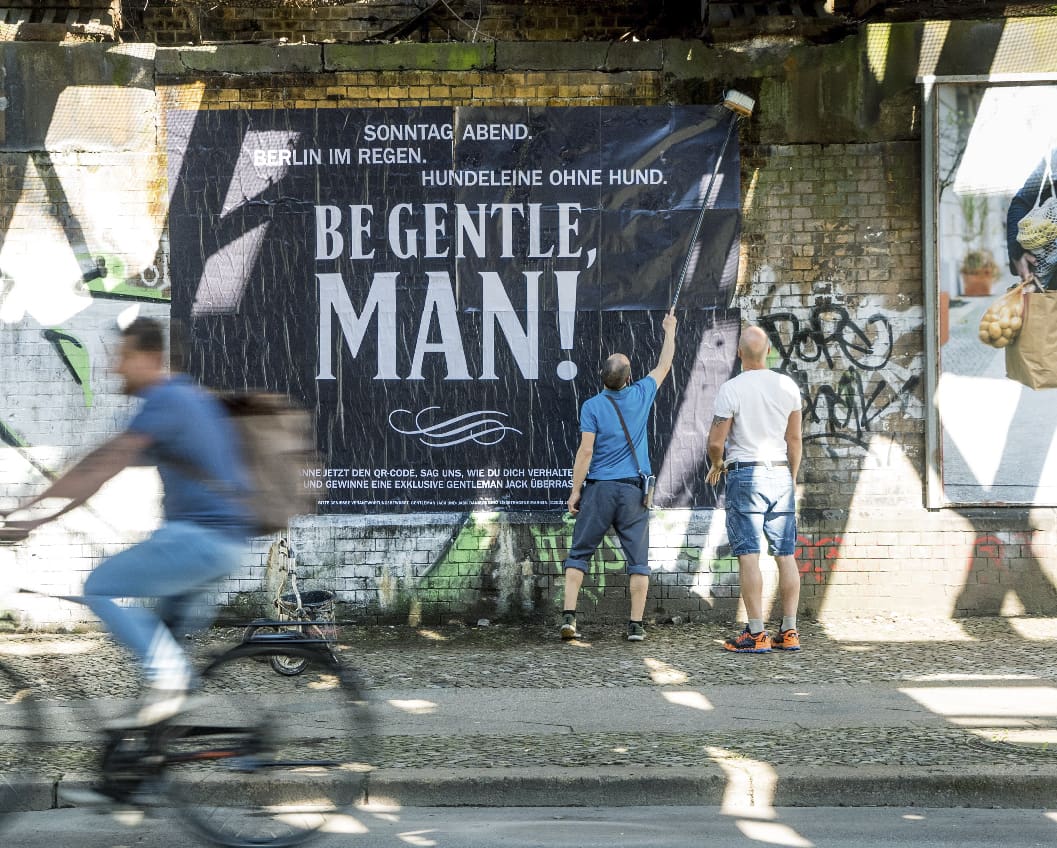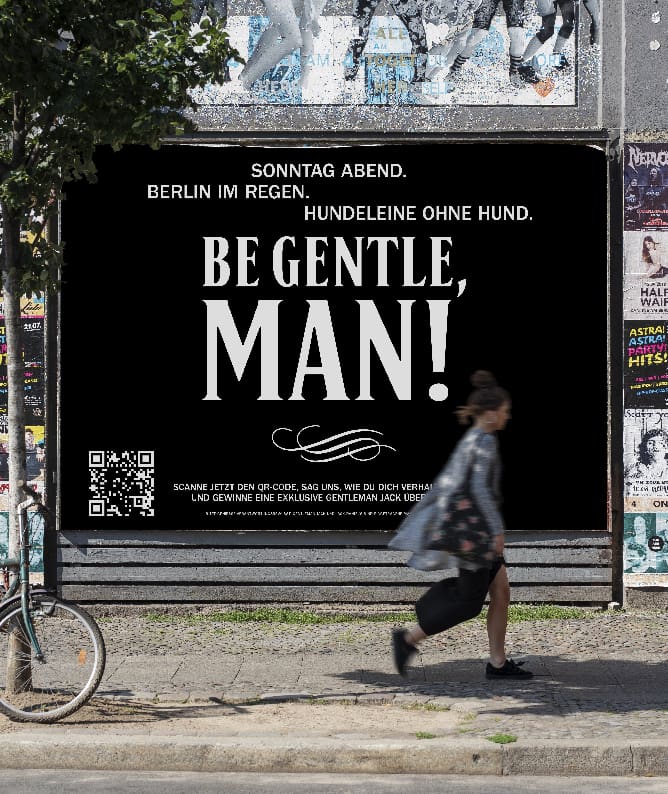 360° Campaign
Just be nice. For Jack Daniel's we create the touchdown with over 6.000 touchpoints in Berlin. "Be Gentle, Man!" is the eye-catching message for the campaign carrying the same name, which adorns advertising pillars, house walls and bus stops in Kreuzberg, Mitte, Charlottenburg, Friedrichshain and Schöneberg.
We implement the brand's goal of inspiring more thoughtfulness in the community, among fellow men and the environment with an OOH attitude campaign.
At the same time, we convey a special brand experience with the mild and balanced character of "Gentlemen Jack" and extend the offline touchpoint with an online microsite that takes you into the interactive world of Jack Daniel's whiskey. From concept & idea, storytelling, design concept and implementation as well as art direction of the campaign, we ensured spreading the message through influencer marketing and press relations.
Office München
Franz-Joseph-Str. 1
80801 München
T +49 89 381 080
Showroom München
Franz-Joseph-Str. 1
80801 München
Office Berlin
Rosenthaler Str. 52
10178 Berlin
T +49 30 72 62 080
Showroom Berlin
Rosenthaler Str. 51
10178 Berlin
BüroOffice Berlin
Rosenthaler Str. 52
10178 Berlin
T +49 30 72 62 080
Showroom Berlin
Rosenthaler Str. 51
10178 Berlin
Büro MünchenOffice Munich
Franz-Joseph-Str. 1
80801 MünchenMunich
T +49 89 381 080
Showroom MünchenMunich
Franz-Joseph-Str. 1
80801 MünchenMunich
Office Berlin
Rosenthaler Str. 52
10178 Berlin
T +49 30 72 62 080
Office Munich
Franz-Joseph-Str. 1
80801 Munich
T +49 89 381 080
Showroom
Showroom Munich
Franz-Joseph-Str. 1
80801 Munich
Showroom Berlin
Rosenthaler Str. 51
10178 Berlin
Büro Berlin
Rosenthaler Str. 52
10178 Berlin
T +49 30 72 62 080
Büro München
Franz-Joseph-Str. 1
80801 München
T +49 89 381 080
Showroom
Showroom München
Franz-Joseph-Str. 1
80801 München
Showroom Berlin
Rosenthaler Str. 51
10178 Berlin